Having a dazzling smile can do wonders for your self-esteem, especially from an early age. We know that you don't want to trust your family dental health to just anyone. We're committed to helping you and your family achieve the bright, healthy, and beautiful smile you've always wanted.
Request An Appointment

Trusted Care Through Every Stage of Your Dental Health
Here at Carolina Oaks Dental Care, our team believes every patient is special and deserves our focus and dedication. We also know that many people experience dental anxiety and we're here to change that, one patient at a time.
We work to build lasting relationships with patients of all ages to help them feel at ease and confident each time they step into our office. After all, having a good relationship with the dentist is vital to continued dental health. This is especially true with our youngest patients.
Our team helps children, teenagers and adults feel involved and invested in their dental health. We use an interactive approach and treat every single appointment like it's the first visit. Your Clemson, SC family dentist will thoroughly discuss procedures and treatments and provide you with gentle care. We'll also educate you on everything you need to know to keep your smile in top-notch shape.
We do all of this in a comfortable, relaxed setting. Our goal is to give your family a solid foundation for lifelong oral health.
Family Dentistry in Clemson, SC
Choosing the perfect dentist for each member of your family can be overwhelming. You don't want to have to cart your family to different locations with different doctors for each procedure. Or, worse, find yourself desperately searching for help during a dental emergency.
The experienced dentists and dental experts at Carolina Oaks Dental Care in Clemson are here to fulfill all of your dental care needs in one location. From a dental emergency to a routine cleaning, we're here for you (and your smile) when you need it!
Our family dentistry practice includes:
Dentistry for Kids
Emergency Dental Treatments
Dental Implant Restorations
Full and Partial Dentures
Root Canals
Crowns
Bridges
Occlusal Guards
Cosmetic Dental Treatments
Tooth Whitening
Veneers
Routine Exams and Cleanings
Oral Surgery
Invisalign Correction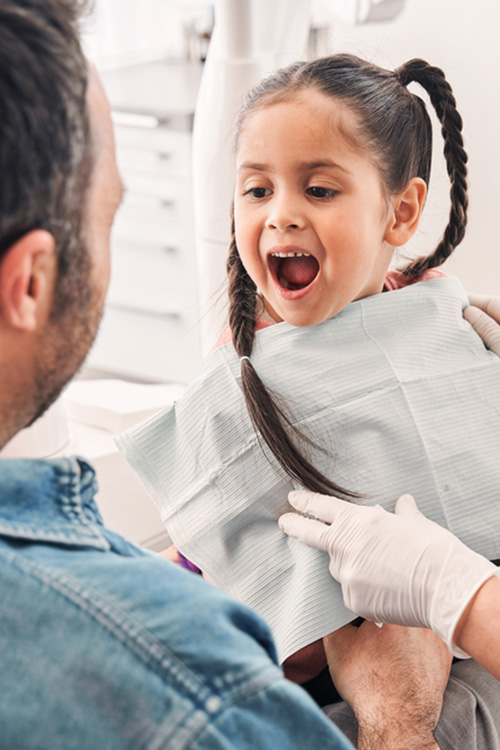 We Love Our Patients!
Whether you're a long-time patient or brand new to our office, we'll treat you like family. The team at Carolina Oaks Dental Care believes in personalized treatment plans and customized care that meets your unique needs.
To help you feel relaxed and confident, we'll ensure you play an active role in your dental care at each visit. Our entire practice has been designed with your comfort in mind, from the reception area to our exam rooms. And with the very best in state-of-the-art technology and dental equipment, treatment will be efficient and effective.
Convenient Location, Friendly Atmosphere
No matter what stage of life you are in, finding the time to make a dental appointment can be difficult. Our goal is to make caring for your smile work for your busy lifestyle. That's why we offer flexible scheduling and financing and are conveniently located right across from the 12-mile Recreation Park. With on-time appointments, we'll get you back to see your trusted family dentist in Clemson, SC right away.
While we're all about convenience, you will never feel rushed. The dentists and team at Carolina Oaks will answer all of your questions and carefully guide you through each procedure. The dental health of you and your family is important to us. We pull out all of the stops to ensure you're comfortable and happy at each and every visit.